Confex is a Wholesale Buying Group with a turnover of £3.06bn, representing over 10% of the UK wholesale market. Confex negotiates Terms, pricing and promotions on behalf of 220 independent wholesale businesses, working with over 200 official suppliers and their brands.
Confex has been in operation as a buying group since 1972 and spans the retail and foodservice route to market encompassing ambient, chilled, frozen, alcohol, non-food, health & beauty.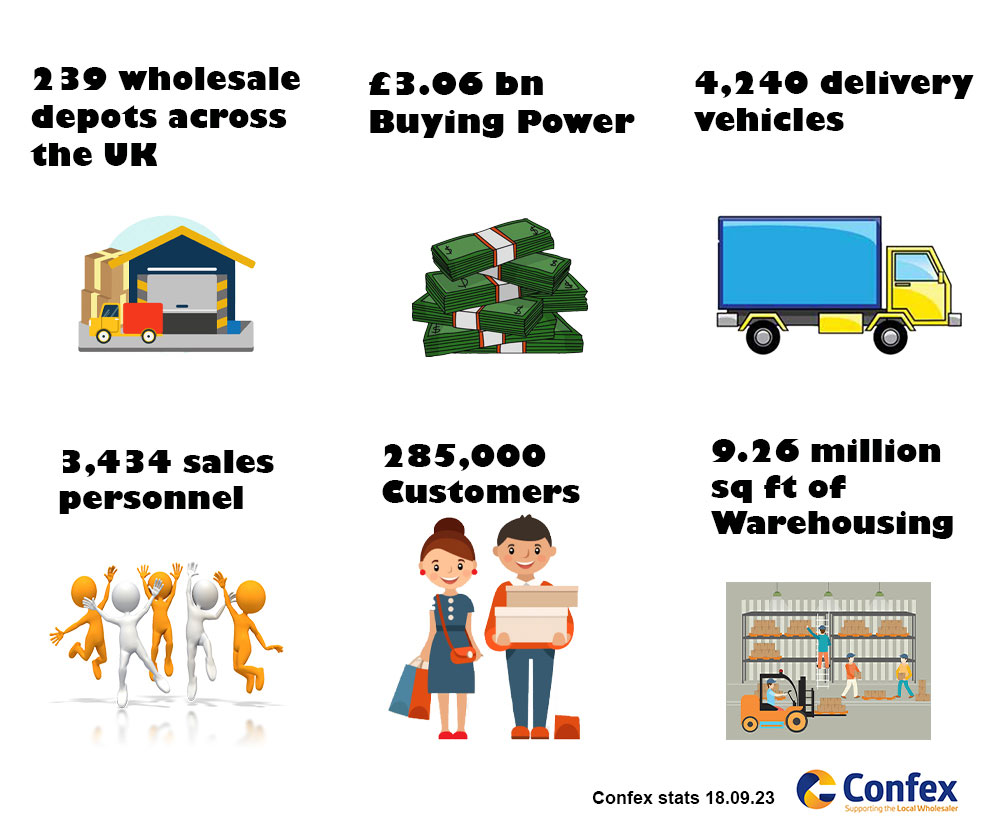 Confex History
Prior to the inauguration of Confex, Julien Loffet owned and managed Standard Confectionery in Birmingham, employing over 100 staff. Having identified a need for a collaborative approach to wholesaling he went into partnership with Birmingham wholesaler, Sidney Lumley, to establish one of the first buying groups in the UK, Confex Ltd, in July 1972.
By the end of the 1980's there were 120 members, of which many are still members of Confex. The membership currently stands at 232. These members range from small van sales operators to multi-outlet franchises.
Mr Lumley retired in 1996 at which point Mr Loffet's daughter, Nicky White, joined Confex and ran the business until her retirement in 2020.

The first office was based at Water Orton, near Birmingham. In 1999 Confex moved its head office to Chipping Norton, and then in September 2013, to modern, more spacious offices in Moreton-in-Marsh, Gloucestershire.
Tom Gittins & Jess Douglas joined the business in 2009 and today operate the business as Chief Executive Office and Chief Operating Officer respectively. They initiated a move of the head office to Upper Rissington, Gloucestershire following the pandemic in 2020 and are currently supported by 15 head office staff.
1972 Confex is inaugurated by Sidney Lumley and Julien Loffet with 55 independent wholesalers. Confectionery, drinks and snacks were the only categories Confex dealt in.
1983 Barry Parish joins Confex from Food Brokers as Business Development Director. More independent wholesalers join the group.
1985 Bill Reading joins to assist in developing marketing strategies including Super Savers
1985-1995 Membership rises significantly from 92 in 1982 to 252 in 1995
1990 The foodservice category is adopted, with sugar, tea, coffee and dairy being the first product types
1996 Nicky White joins Confex as Company Director. Mr Lumley retires in the same year.
1997 Paul Feely joins as Business Development Manager to help develop foodservice, grocery and alcohol.
2000 First website goes live with over half the membership having internet facility
2000 Confex joins Unitas (then called Landmark) as associate member - official group supplier list grows.
2001 Confex relocates to new offices in Chipping Norton, Oxfordshire
2002 The Central Payment Scheme for Nestle is established. Membership hits 300
2005 Member promotions and mail outs are first offered electronically. Julia Stiles take early retirement to relocate to France.
2006 David Lunt joins Confex as Business Development Manager. Central Distribution is inaugurated, with warehouses premises in Pershore, Worcestershire.
2007 James Loffet joins as Logistics Director of Central Distribution.
2009 Tom Gittins joins as Business Development Manager to further develop the foodservice category. More foodservice suppliers join Confex
2010 Confex runs its first annual Trade Show. Retail Club, C-Store Express is developed.
2011 Electronic promotion brochure production is trialled with opportunities for member customisation. Kish Ramasamy joins Confex Sales Development Manager.
2012 Confex holds its first Charity Challenge to mark its 40th anniversary and invites 40 suppliers, members and Confex staff to take part in the Three Lakes Challenge in aid of Cancer Research, Help for Heroes, a local Hospice and Sweet Charity.
2013 In August, Confex runs its first Member Incentive with 16 Members winning a day at the Goodwood Races.Confex and Confex Central Distribution relocate from Chipping Norton to magnificent new offices in Moreton-in-Marsh.
2014 Digital Asset Manager, Jess Douglas, joins Confex to develop the eSuper Saver, the on-line Member brochure service with a supporting digital image library. Confex SuperSaver evolves to include Pound Savers and Grocery Savers. Central Distribution increases turnover to £19m and a Team of Suppliers, Members and Confex staff complete a trans Pennine charity event raising £5,000 for The Alzheimer's Society and Cancer Research.
2015 Barry Parish retires after 32 years' service at Confex. Confex takes The Growth Incentive winning Members abroad for the first time, on a 4 day trip to Portugal.
2016 Confex turnover hits £2bn. Confex head office team grows offering more member benefit and further business support.
2018 Martin Williams becomes the first Confex Chairman and the first Confex Member Board is inaugurated.
2020 Confex moves offices to Upper Rissington post Covid-19 pandemic. Nicky White and James Loffet retire with Jess Douglas & Tom Gittins taking over as Confex Directors.
2022 Confex launches CORE own label with sales in the first year £6mm. Confex Group turnover reaches £3bn for the first time.
2023 Confex CORE reaches £10mm turnover, winning five CC&M Own Brand awards.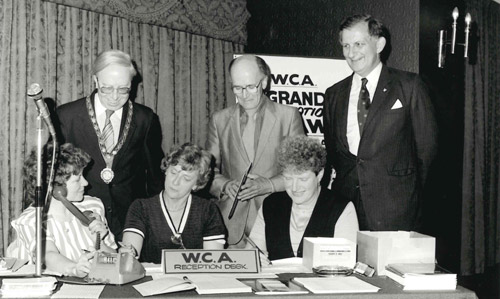 L-R: Ann Smith, Sidney Lumley (Head of W.C.A.), Jean Bellis, Julien Loffet, unknown, unknown
CENTRAL DISTRIBUTION
Central Distribution provides wholesalers with the ability to order in smaller quantities than would be possible direct with the Supplier. This helps their cash flow, stock planning and drives their business to greater return. Call 01451 821598 or click the find out more button.